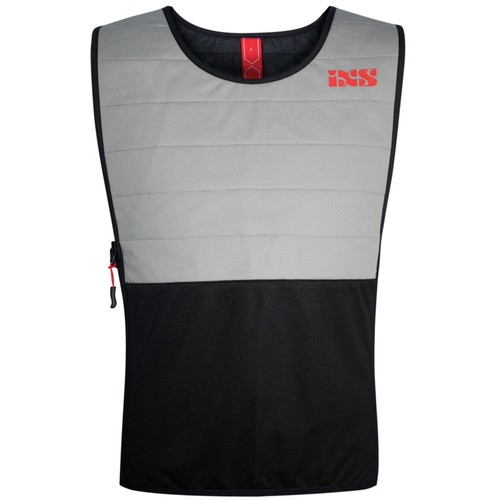 Vest Bodycool grey
Body cooling
By evaporating under a mesh jacket, the iXS-Bodycool Dry Vest cools down between 8 hours and 3 days depending on temperature and humidity.
Zipper with handy Zip handle makes it easy to put on
Side panel with a stretchy and breathable mesh for more freedom of movement
Extra pocket on the back with preparation for the drinking system (X99563)
Application:
This product performs best in low to mediumhumidity.
The level of airflow determines the cooling effect.
Operation:
Open the ziplock and fill with max. 600ml / 20.3 oz water. DO NOT OVERFILL!
Distribute the water evenly through the complete product.
Open the ziplock and squeeze out any excess water and air.
Enjoy immediate cooling.
Care/cleaning:
Machine home wash 40°C / 104°F (with closed ziplock), use mild detergents. Hang only. No ironing, no dry cleaning, no industrial laundry and no bleach.
Attention:
In wet condition: Do not store without ventilation.
In dry condition: Unlimited dry and dark storage.
Carrying a backpack may reduce the functionality of the system.
A backpack with ventilation system is therefore recommended